Playing games has been proven to give you a nice, calming shot of dopamine when you're stressed. Which, actually, explains how my game shelf has expanded so much over the last two years. And being in nature has also been proven to lower stress levels. But what if some mad genius put the two together? Check out the games below for a double dose of stress relief!
Pachamama – GameFound Oct. 19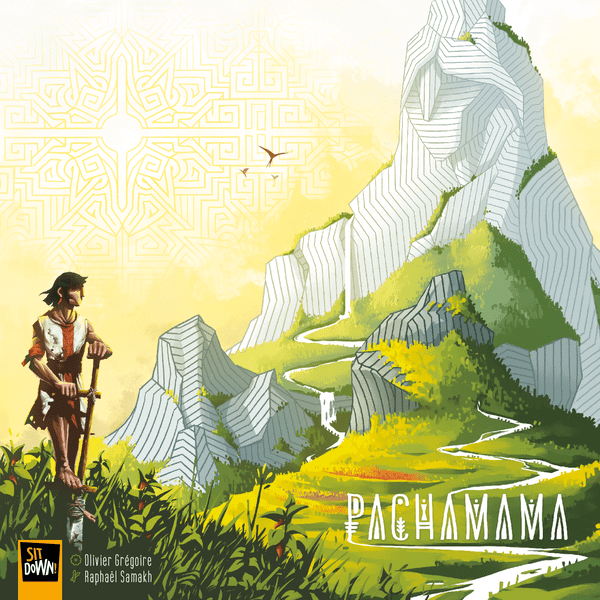 People have appreciated pastoral settings for the calming and healing qualities for ages. Designer Gregoire Olivier (Piratoons, Hope) and publisher Sit Down! Games' latest publication, Pachamama, taps into this notion and takes players to the heights of the Andes as one of the Quechua people trying set up the ideal arrangement of crops. But to do so, players must discern the will of the goddess Pachamama in order to successfully plant. While this game may sound idyllic and peacefully pastoral, it still brings a pleasant amount of tension.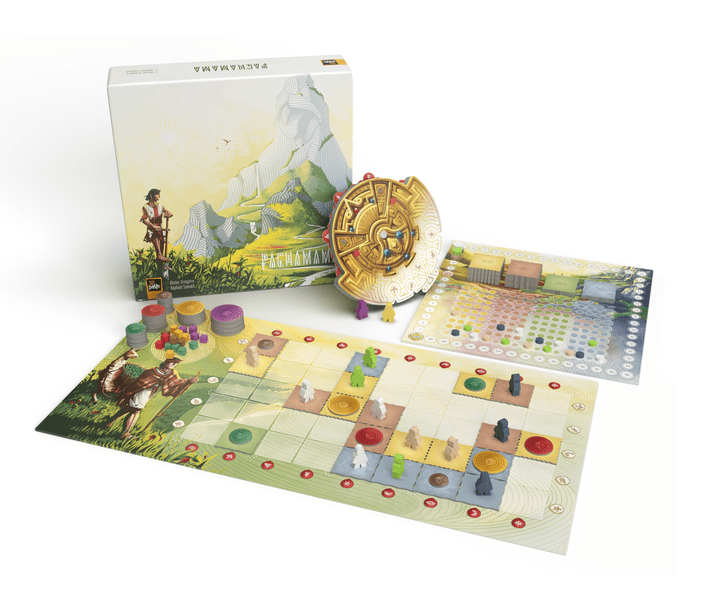 That's because Pachamama plays like a mash-up of Minesweeper and Sudoku for 1 to 4 players. The players build a board using polyominos (think Tetris pieces) according to the chosen layout on Pachamama's stone wheel. They then take turns moving around the board and discovering the various types of terrain. When new land is found the players can try to discern the will of Pachamama, allowing them to plant the crops that Pachamama most wants to see. And here is where you'll likely start to sweat. You see, there are rules about which crops can go where on any given polyomino and in relation to the surrounding polyominos. Your job is to look at what is already on the board and make your best guess about what should go where. Guess correctly and you will be rewarded with crops and offerings which, when given to Pachamama, earn you points. But guess incorrectly and you will face the wrath of the goddess! Players who miss the mark still put crops down (a clue for other players), but lose points for disappointing the Earth Mother. If you want to get a sneak peek, you can check the game out on Tabletopia via the GameFound page.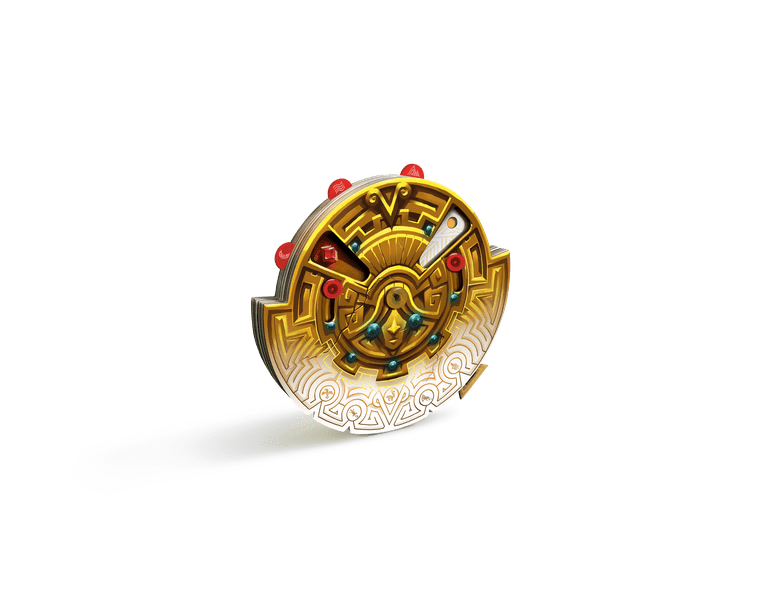 Wild Realms – Gamefound Nov. 4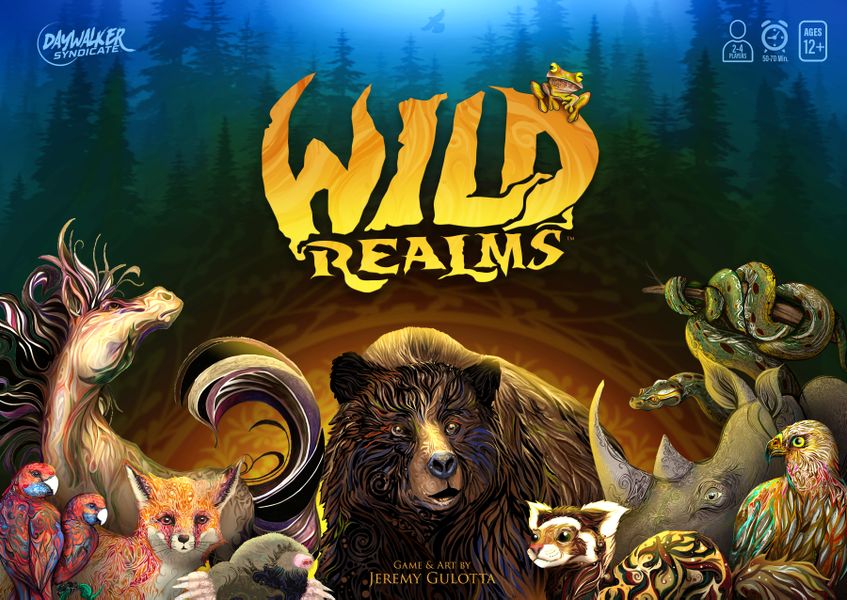 This last game makes the assumption (probably quite accurately, I'm afraid) that humans got on the previously mentioned Earth Mother's last nerve and are no longer around. In Wild Realms, animals now rule the roost and, probably because of our bad example, are now battling to control the four elemental realms.
Wild Realms is the first on a hefty list of upcoming games from burgeoning publisher Daywalker Syndicate. This mid-weight 2 to 4 player card game is predominately a set-making game with a fair amount of hand management thrown in for good measure. Players must create a set of realms containing consisting of the four elements: earth, wind, water, and fire. Each realm, in turn, must be "locked" by playing a 5-card set of animal guardians that consists of all 5 factions, one of whom is a leader. Once a player locks all 4 realms, the game is won.
Your opponents, however, can throw some serious wrenches into this seemingly simple process. For instance, some animals are extra-powerful "legendaries" that produce game changing effects. Players can also attack your animals to with their own hoard of beasts, thereby keeping you from making the needed sets to "lock" your realms and keep them safe. But even a locked realm isn't completely in the clear. As a last resort, opponents can challenge you to a "realm duel" in which they wager the safety of one of their own locked realms to try and reopen one of yours, making sure the game is tense until the end. And like Pachamama, the Daywalker Syndicate website promises to have a Tabletop Simulator as well as a Tabletopia version for people to preview.
Gaijin – Gamefound TBD
If you saw the Kickstarter campaign for Tainted Grail: Fall of Avalon, you probably already know that publisher Awaken Realms likes big games. It should also come as no surprise then that their Awaken. Realms Lite imprint, created to publish, well, lighter games, still likes to go big. For proof, look no further than their upcoming adventure game Gaijin.
This cyber-punk adventure game for 1 to 4 players still clocks in at a whopping 90+ minutes per game. It also comes with more gameplay options than you can shake a metal arm at. For starters, there are two different worlds the players can immerse themselves in: the physical and the digital. In the physical world, players will head deep into this urban jungle's heart of darkness, scouring a modular hexagonal cityscape for intel and battling powerful human and robotic opponents. Meanwhile in the digital world, players can try to hack opponents to gain bonuses by completing sequences of code. The two worlds create a tricky balancing act because the more you hack, the easier it is for AI to locate you in the real world, but not hacking makes you more vulnerable to being hacked yourself.
This balance between the physical and digital world seeps into the characters as well. Players will have to choose characters that specialize in one world or the other, and the two typically don't play nice together. That will make things even more interesting and asymmetrical as you navigate one of Gaijin's various missions. Oh, and it's cyber-punk so of course there are body modifications to let you customize your characters. Perhaps we'll see a Keeanu Reeves face-upgrade in the stretch goals?
by Zane Messina

Mythic e-shop
Witches and wisps,
Bogs and frogs.
The Darklands beckon thee!
Now on Kickstarter!
Mythic e-shop
Witches and wisps,
Bogs and frogs.
The Darklands beckon thee!